Safe Families for Children™ (SFFC) helps parents experiencing a temporary crisis by providing a loving Christian family with whom their children may stay until the crisis has passed.
Families Helping Families
When a crisis strikes, many people rely on relatives or friends for support, but some families have no safety net. Problems such as postpartum depression or unemployment can hit suddenly and be debilitating. Children may then be at risk of neglect or abuse without some kind of support for the family in crisis. Now, parents experiencing a temporary crisis can ask SFFC to find a Christian host family for their children (newborns through age 17) to stay with while the parents address the issues that led to their situation. There is no charge for SFFC. Volunteer Host Families are motivated by compassion and are not financially compensated.
You Can Make a Difference
Host Families include singles, married couples with or without children, and empty nesters who make room in their hearts and homes for children in need. SFFC volunteers can have a powerful, positive impact on the lives of others while practicing biblical hospitality, extending the love of Christ to people in need, and sharing their faith— all from their own homes!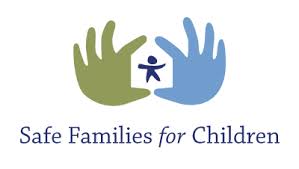 Volunteer opportunities in your area may include:
Volunteer families willing to open their homes to children in crises and provide a safe and loving atmosphere for them on a temporary basis.
Most children come to SFFC with very few supplies and possessions and Host Families are not reimbursed for any expenses they incur. Therefore, the donation of items including (but not limited to): diapers, formula, cribs, car seats, strollers, and clothing is essential.
Volunteers willing to provide care of children while Host Families or parents being served run an errand; befriending a parent in crisis who needs a listening ear, accompaniment to a medical appointment, or transportation. A volunteer who also becomes like a mentor to a parent in crisis.
Mature Christians serving in a mentoring role to connect with the family being served; assisting with and addressing the circumstances that led to their crisis.
A comprehensive network of professionals willing to provide services on a donated or discounted rate for the support of children in crisis and/or volunteer families. Doctors, dentists, hair-care professionals, handymen, and house cleaners are just a few examples.
Groups of individuals providing prayer, encouragement, and support to Host Families and the family in crisis. Examples include play groups, coffee talks, burger night, etc.
Volunteers who help facilitate the co-parenting relationship between the SFFC Host Parent and parent being served during a hosting arrangement. Their primary focus is ensuring the well-being of the child(ren) while coordinating communications between various agencies, Host Family, and the family being served.
Orchard Hill church has a Community Care Closet available for families hosting Safe Families children that are in need of clothing, diapers, formula, toys, etc. for those children.
Visit the Safe Families Website
For More Information -- Safe Families Brochure
Become Involved with Safe Families Through Orchard Hill
For Additional Volunteer Opportunities