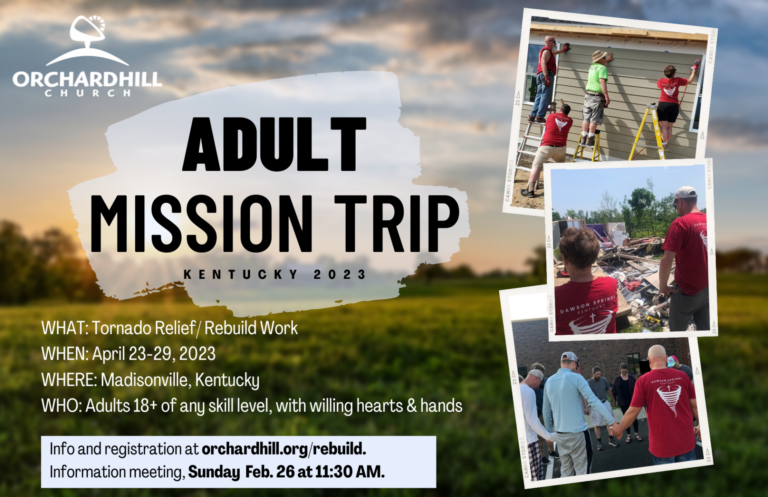 SITE INFORMATION: This area of Kentucky is recovering from a series of devastating tornadoes that struck in December of 2021. The first tornado traveled 165.7 miles through 11 different counties in western Kentucky and damaged or destroyed thousands of homes and other buildings. Two more tornadoes followed. In Hopkins County alone, more than 1,000 structures were damaged and another 500 destroyed.
VOLUNTEER REQUIREMENTS: Volunteers must be at least 18 years old. All skill levels from beginner to licensed are welcome, as long as you are willing to serve, learn, and work hard! 
PARTNERS: We are partnering with World Renew DRS, a Grand Rapids based missions sending agency, to serve in Kentucky. While on the ground, our team will be connected to The Call to Build Ministries, led by long-time friends of OHC, Tim and Marcy Shaeffer, who are working with Hopkins County Long Term Disaster Recovery Group to rebuild local homes.
ACCOMMODATIONS/MEALS: Housing is provided for the volunteer work teams at participating local churches. Showers, cots, bathroom, wifi, and some kitchen facilities are provided. We will take turns as a team to prepare meals.
COST: TBD based on number of volunteers registering. We try to keep the expenses to under $300. If cost is an issue, contact the church office. We don't want cost to keep our congregation from serving in this way!
WHAT TO BRING: 
Sleeping bag/bedding
Towel and toiletries
Work clothes and closed-toed shoes (things that can get dirty/ruined)

Last year the high temps varied between the 60's & the 80's for the week. Pack accordingly.

Clean clothes and shoes for post-work (dinner, evening gatherings, one meal out, etc.)
Towel and toiletries
Sunscreen and water bottle
Any games or snacks you may personally want for the week
A Bible, notebook, and pen
It is always a good idea to bring your own work gloves, safety glasses, tape measurer, hammer, charcoal pencil, etc.
If you would like to bring larger tools, we will have a tool coordinator from our team you will be put in contact with.
SPIRITUAL PREPARATION: Please don't just physically prepare for this trip, but spiritually prepare as well! We will have daily devotionals from World Renew for each team member (totally optional). Let Pastor Laura know if you would like one. Please also consider signing up to lead a short evening devotional to encourage our team at our nightly debrief and reflection time.
FORMS/PAPERWORK: Both Hopkins County Long Term Disaster Recovery Group and World Renew DRS will have forms that will need to be completed pre-service, including:
Team Application
Medical Information Form
Background Check Form 
Registration & Questions: